From the most cosmopolitan cities in the region to ancient communities surrounded by extensive tropical jungles, Central America and the Dominican Republic have the most idyllic settings for you to find a balance while telecommuting. The natural wonders, the human warmth, and the almost immediate access to different points of tourism interest make the isthmus a paradise for modern travelers like you.
Surely you recognize yourself as a digital nomad or you have simply been telecommuting for a while. It's time for your computer to become your best travel companion and choose from a hundred options where you can stay to do remote work while traveling in the heart of the Americas.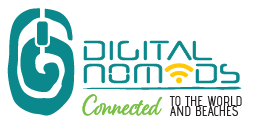 Here you can learn about different cultures and experience a new freedom as you travel through different regions of the isthmus. In Belize, the Caribbean and work are mixed, you will find destinations such as Placencia and San Pedro, and it also has a long-stay traveler program.
Guatemala offers you La Antigua Guatemala, a city with a ceremonial atmosphere full of colonial buildings, or you can take advantage of the accommodations in Sololá, on the shores of Lake Atitlán where you can converse with international travelers like you.
El Salvador offers you an escape route to the Pacific to enjoy world-class waves in Surf City, La Libertad. If you like a city full of culture and history, Suchitlán, on the shores of a lake that bears the same name, offers options to stay with immediate internet connection and access to ideal spaces for teleworking.
A jump to the Caribbean? Honduras is the home of the Bay Islands, with accommodations for all types of travelers, its greatest potential lies in the number of coral banks or diving sites, which you can enjoy before or after a workday. If you are looking for something close to the main cities of the country, Tegucigalpa is your best option.
Nicaragua, land of lakes and volcanoes, offers two tourist centers with easy access to different adventure and community tourism options. San Juan del Sur, an impressive bay surrounded by tropical mountains, offers different places of coexistence and lodging that assure you a pleasant stay while you work. For its part, Granada, on the shores of Lake Cocibolca, has a varied offer to welcome you.
In Costa Rica, La Fortuna offers you access to the Arenal Volcano and hot spring river destinations where you can enjoy the view of the lava flow coming from the volcano. On the other hand, in Guanacaste you will have access to the impressive beaches of the Pacific and tropical forests. Costa Rica has a Law for digital nomads and a traveler information site where you will find everything you need to learn.
Panama, the city of skyscrapers in Central America, has endless lodging options for all tastes and budgets. This capital of modernity in the region offers access to important tourist sites such as Old Panama, Old Quarter, the Panama Canal, and museums. Further away from the hustle and bustle, Bocas del Toro allows you to alternate your telecommuting days while enjoying its impressive biodiversity.
Punta Cana, the obligatory destination in the Dominican Republic, with its kilometer-long white-sand beaches, combines its local rhythms and gastronomy to offer you unrepeatable experiences. If you are looking for less popular destinations, but with facilities to accommodate digital nomads, Samaná will be your best option, where you will have access to Cayo Levantado, a destination surrounded by vegetation and freshwater rivers.
Without a doubt, the region offers options to host people who decide to take their creativity to dream places. In the different countries of the region, you will have access to destinations with the capacity to accommodate professional travelers like you. Exploring other worlds close to nature, with an ideal climate all year round, beaches, volcanoes, rivers, and totally comfortable surroundings in Central America and the Dominican Republic is possible.