You've certainly heard of Australia's Great Barrier Reef, but do you know about Central American coral reefs? They've nothing to envy the Australians, since what's officially known as the Belize Barrier Reef Reserve System is the second largest and most important in the world. A unique place where you can enjoy Central American nature in all its splendour, a place that Charles Darwin himself defined as "the most remarkable reef in the West Indies" and one I recommend you don't miss on a multi-destination trip through the Central American isthmus.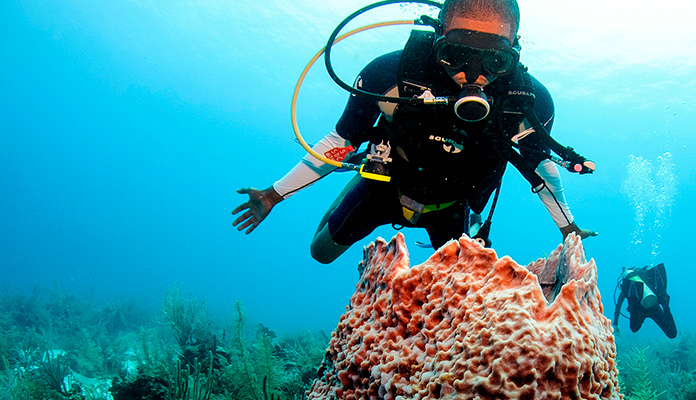 Coral reef in Central America
We can divide the corals into two groups. On one hand, there are those which create the reefs; on the other hand, there are corals which secrete a flexible skeleton instead of one of calcium carbonate. As a result, we have the coral reefs, an underwater spectacle of nature. If you're thinking about taking a different trip, getting away from crowds of tourists, and spending your holidays in a safe environment, you should visit countries like Belize or Honduras and be surprised by the beauty of these World Heritage reefs.
Why Central America's coral reefs are so important
We find that coral reefs are one of the richest ecosystems on the planet due to their characteristics. We can find hundreds of species living in them, since they're estimated to be the habitat of 25% of marine species, many of which are for human or fishing consumption. But beyond biodiversity, these structures also help protect the coast from erosion and the force of the waves.
We can't lose sight of the fact that coral reefs help mitigate the effects of climate change by reducing greenhouse gases. Paradoxically, climate change is one of the causes putting these ecosystems in danger. Warming seawater temperatures make corals bleach, which endangers reefs, along with certain human behaviours. The coral reefs of Central America are included in the UNESCO World Heritage List and in 2018 we saw them come off the heritage at risk list.
Nature in Central America: the best coral reefs
If you like diving, doing this in the Central American coral reefs is an experience you'll never forget. Among the species we find are the lemon shark or the coral shark, turtles, crabs, lobsters, manatees and even a species of marine crocodile native to the United States. There's more than 700 kilometres of barrier reef, with spots as iconic as the Great Blue Hole of Belize. It's a circular marine cavern 300 metres in diameter and 145 metres deep that you definitely have to visit on your trip to Belize.
In addition to the Blue Hole, there are six other nature reserves and parks in Belize alone, such as Bacalar Chico, Half Moon Caye, South Wate Caye, Glover's Reef, Laughing Bird Caye, and Sapodilla Cays. A little further south, by this time in Honduras, we find the spectacular Bay Islands. They're a formation on the Mesoamerican barrier reef, and again we find an ideal setting for enjoying diving and the rich underwater landscape of reefs like Roatán.
Do you want to immerse yourself in the spectacular coral reefs of Central America and see the coral reefs for yourself? Visit our website and discover everything that incredible nature in Central America can offer you on an unforgettable multi-destination trip.
Experiences: