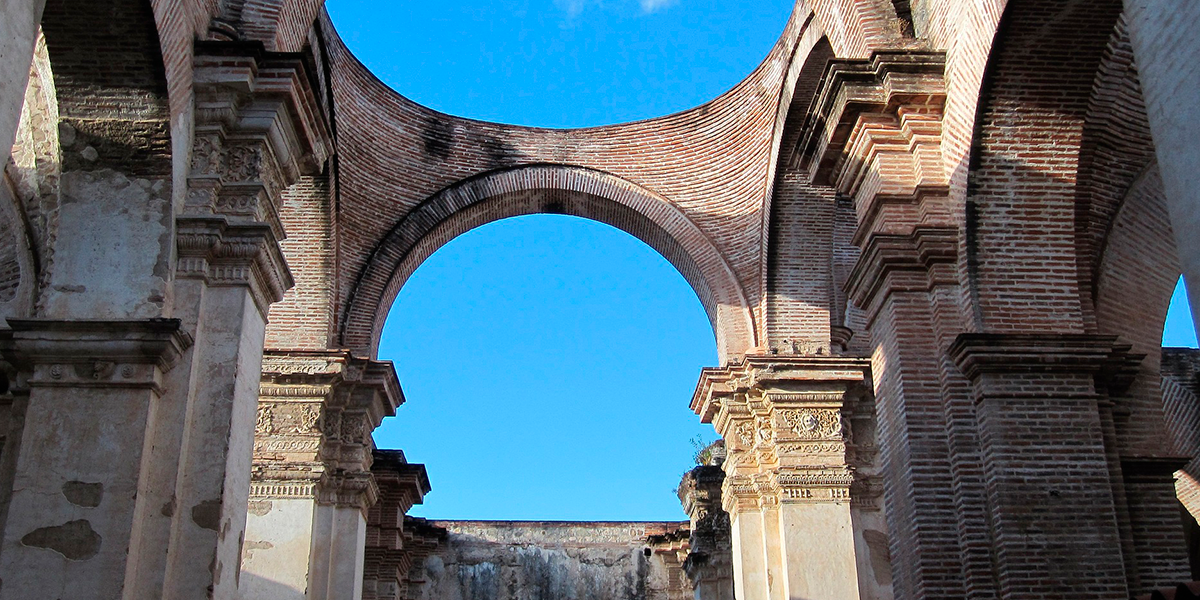 Want to discover Central America and the Dominican Republic without straying too far from the cities? It's a great way to get to know its people, history and customs, without giving up the convenience of having a variety of restaurants, shops and other businesses nearby. Get ready to discover some of the fantastic cities in Central America and the Dominican Republic we have to show you. There are plenty more to choose from though: it all depends on your tastes!
Antigua Guatemala, Santo Domingo and Belize City: 3 cities sure to fascinate you in Central America and the Dominican Republic
We have selected these three cities because they are the most popular with our visitors.
Antigua Guatemala: discover Guatemala in a single city
Take a look at our list of places to enjoy various aspects of Guatemala, all in Antigua Guatemala:
Calle del Arco: This colourful street is an example of the colonial architecture that is still very much alive in this country today. You'll love photographing it. It is named after the fabulous Santa Catalina Arch.
Textile Museum: Have you been struck by the colours and originality of traditional Guatemalan clothing? Here, you can buy the textiles, discover a wide variety of pieces and discover how these garments are made.
Caoba Farms: This farm is dedicated to the organic cultivation of a range of foodstuffs. This is the best place to not only savour the country's authentic products, but also to learn how they are grown. They also supply their products to the best restaurants and hotels in the country. You'll soon understand why when you try them!
Find out much more about Antigua Guatemala on the official website of Guatemala.
Santo Domingo: visit the Caribbean's oldest city
Santo Domingo, the capital of the Dominican Republic, is home to the oldest colonial buildings in the Caribbean – dating back to the 16th century. It has been declared a UNESCO World Heritage Site and is home to residences such as the Alcázar de Colón and the Catedral Primada de América.
Your visit to Santo Domingo also offers up the perfect opportunity to visit a few of the best museums in the Caribbean, such as the Museum of the Dominican Man, where you can learn about Taino art and take in some authentic examples of Taino artefacts. This museum is located in the Plaza de la Cultura,, where you'll find a host of other places of interest such as the Museum of Modern Art, the Museum of Natural History and the National Theatre.
Of course, you can't miss the Malecón: ideal for a relaxing stroll at sunset. Take advantage of its bars, restaurants and lively nightlife.
For a little escape from the hectic city, you'll find white sandy beaches with crystal-clear turquoise waters nearby.
Visiting Belize: the best base from which to discover the rest of this marvellous country
If you want to visit the rest of the country of Belize, with its rainforests, beautiful beaches and archaeological gems, you must go to Belize City. Take a stroll through the streets and soak up its culture and history. Visiting the government buildings is a great way to do this. You will be amazed by its architecture and beautiful gardens. From this city, you can also reach the great Blue Hole, for example. This is the world's largest sinkhole – a breath-taking sight for any visitor.
The Belize Museum also houses those pieces that could not be left in their original archaeological locations. This way, you'll gain a better understanding of the history of this area. What's more, at the Maritime Museum, you can learn about the importance of sailing in this country, through old documents, model ships, paintings and much more.
We recommend taking a visit to these cities while sightseeing in Central America with our multi-destination tours. Discover the must-sees in Guatemala and Belize or the best of Central America and the Dominican Republic. Find out more about our Central American heritage – by researching your trip before you arrive, you'll be sure to get the most out of it!