Central America is a fascinating and surprising destination throughout the year. However, although the countries in this region are not known for drastic changes in temperature from one season to another, there are some climatological differences that are worth knowing in order to plan your trip.
Temperaturas en Centroamérica
Central America enjoys a tropical, warm and humid climate that provides visitors with rich and leafy and landscapes.
Its varied geography means we can encounter a wide range of microclimates. Therefore, the lowest average temperatures, around 15 ºC, are recorded in mountainous areas that are approximately 2,500 metres above sea level. In contrast, low altitude areas enjoy constant summer temperatures that can be around 27 ºC, and with small differences in temperature between night and day.
For your trip through Central America, we recommend that you pack summer clothes, but also take along some mid-season clothing for hiking or adventure trips that you can do in places such as the Tajumulco Volcano in Guatemala, the Belizean Mayan Mountains or the Cerros de Escazú in Costa Rica.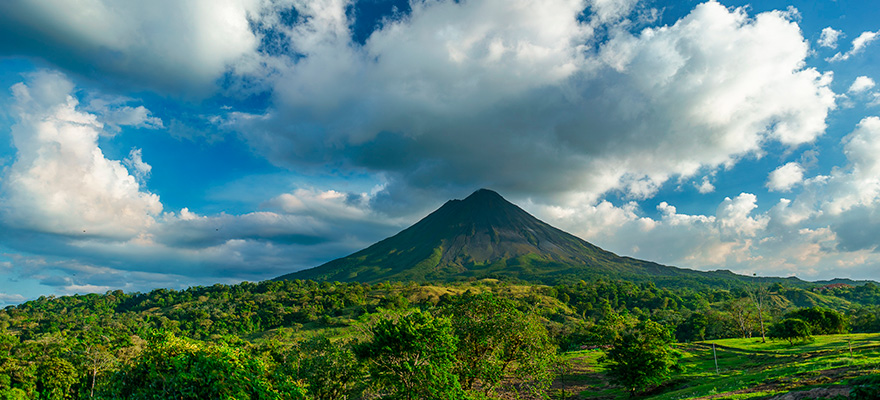 Experience the two seasons in Central America
In Central America there are two seasons: the dry season and the rainy season. Unlike other areas of the American continent, the seasons are not marked by the change in temperatures, but by the amount of rainfall.
The dry season is from December to April, although in some countries or regions this season is shorter and lasts only from February to April.
During the remaining months of the year there are frequent rains that endow the landscape with an intense greenness. However, these rains are not usually heavy, so they won't stop you from enjoying all the natural wealth that a trip through the countries of Central America can offer.
In some areas, there is a brief rain-free season between July and August that you can also take advantage of. You may also be interested to know that, as a general rule, the regions in the Atlantic area are more rainy.
Although not all regions suffer from hurricanes, during the rainy season, especially between May and October, there may be storms. This is why it's a good idea to pay attention to the weather forecasts.
Best time to surf in Central America
Depending on the goal of your trip, the best time to travel will be either one or the other.
If you are a passionate surfer, the best months to travel to Central America are, of course, the months in which there is more wind on the beaches.
During the southern hemisphere summer, from December to April, you can enjoy incredible waves on the shores of the North Pacific that are a dream for surfers from all over the world. In the South Pacific area, from April to September you can ride the waves on the wildest beaches that you can imagine. However,if you can't wait for those months of the year, in the Central Pacific area there are great waves for most of the year.
Can you imagine travelling the Central American coast in search of the best beaches for surfing? The waves at the beaches of Santa Catalina in Panama, El Sunzal in El Salvador, Caletas in Costa Rica and lots more are waiting for you.
From Panama to Belize, through El Salvador or Nicaragua, Central America is one of nature's gems, capable of impressing anyone. For its landscapes, its culture and its gastronomy, what better than to be swept into the very heart of Latin America. We invite you to travel through each of the countries, along a route that will be one of your life's most memorable journeys