Are you tired of shivering during the last weeks of the year? Enjoy an amazing Christmas in Central America with gifts, warm temperatures and amazing activities! Are you ready to enjoy the special dates of the year in a completely different way? I promise you that your Christmas Eve and New Year's Eve will be like nothing you've experienced before
This is December in Panama
Leave the scarf at home, as you won't need it here. But don't forget your swimsuits of course, as endless sunny days are awaiting you. Can you imagine singing Christmas carols while you soak up the sun on the beaches of San Blas or in Nueva Estrella? Don't forget to take pictures of the beautiful December sunsets in Panama!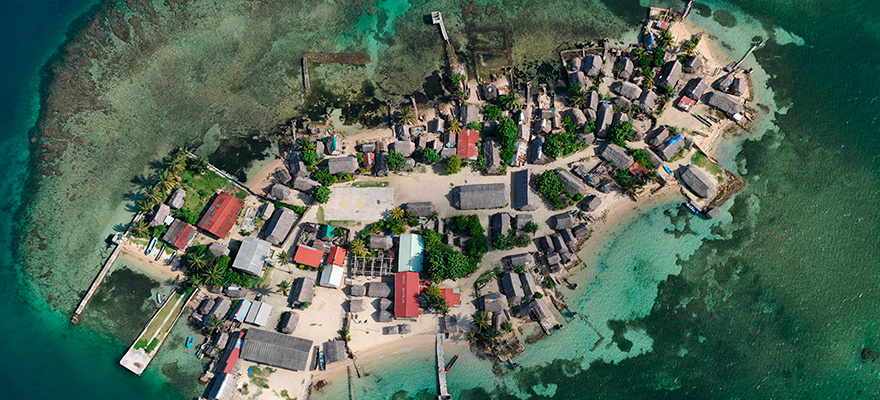 Your neighbour's house will be even better than your local shopping centre
As you would have guessed, the beaches of Panama are adorned with crystal clear waters. Its appeal is only equalled by the decorations in streets and homes during this time. It is the locals who carry out this task. There are even contests between communities! They are so competitive that the decorations will be even more impressive than your city's shopping centre. This tradition is also celebrated in Costa Rica, so I recommend that you check them both out
Leave the ice behind and grab your surfboard
Tired of ice skating during the coldest month of the year in your city? Take advantage of your stay in Costa Rica to ride the waves. Go straight to Playa Caletas and glide over the giant waves. You can also do the same at Cayo Ambergris, in Belize. These are just two recommendations; Central America is packed with idyllic surfing destinations
Travel back in time to the B.C. era
Lamanai, Caracol, Altun Ha … In Belize, you can dive both into turquoise waters and into the most fascinating and rich history of a lost civilisation. The Mayans left traces of interest both here and also in Honduras. At the Copán Ruinas you will find authentic perfectly preserved jewels.
Better to be under the sea than in the rain
Surely you'd rather put on your diving fins than get soaked by winter storms and hail. That's why we never leave Belize. Discovering the depths of the Blue Hole before tasting armadillo meat at Christmas Eve dinner sounds like a great plan, right? The endless bright colours of the fish will lift your Christmas spirit.
Why spend Christmas in Guatemala
In Guatemala you can visit the typical Christmas parades (such as Las Posadas). But for another pilgrimage that will definitely blow your mind, you will need to grab your backpack and your trainers. Make a note of these places: Acatenango, Pacaya, Atitlán and Ipala. What do they all have in common? They are names of volcanoes. And when it comes to volcanoes, Guatemala is the king! Some of them are even still active … Don't forget your binoculars, by the way, as these areas are also famous for bird watching. Here you will see some of the most exotic birds in Central America.
The hummingbird singing along to Christmas carols
The interest in ornithology extends to other places in Central America as well. El Salvador is full of white-tailed hummingbirds. Their song will seem as angelic as that of a children's choir performing on Christmas Eve. It is only one of the species that inhabit Los Pájaros Island, an epicentre of mass migration located in Suchitoto. The synchronised eruption of birds which floods this scene is as magical as the arrival of Santa Claus.
Are you tempted to bid farewell to this year in an original way with these plans? Enjoy an amazing Christmas in Central America in the company of your loved ones. I am certain you will want to come back. But don't settle for embarking on your adventure with just these proposed activities. Discover more by visiting our website.