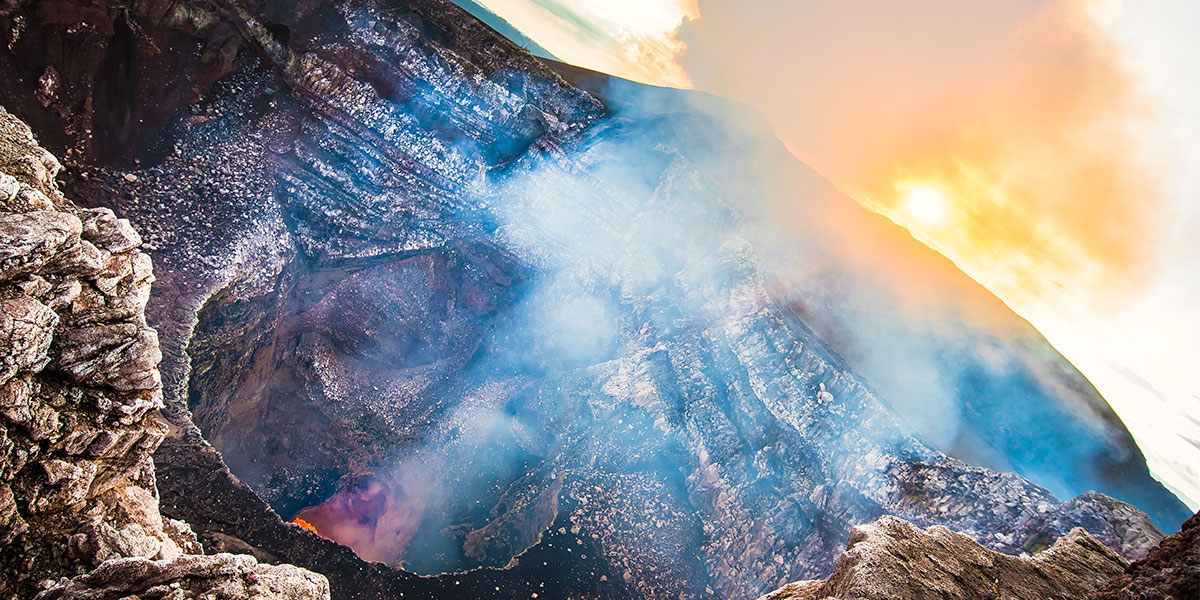 Prepare to experience an unbeatable adventure in Central America! If you love nature and you want the excitement of exploring volcanic landscapes, you can't miss the opportunity to hike the stunning Pacaya volcano in Guatemala, Masaya in Nicaragua and Santa Ana in El Salvador.
Incredible hiking routes in Central America where you can visit active craters and bear witness to panoramic views will take your breath away.
Discover the Pacaya volcano: hiking near volcanos in Guatemala
Let's begin our tour in Guatemala, where the famous Pacaya volcano is found. With its stunning scenery, it is one of the most visited volcanos in Central America. Just 47 kilometres from Guatemala City, it is also one of the most accessible volcanos in the region.
Hiking up the Pacaya will lead you along paths surrounded by lush vegetation, and you will also have you the chance to walk on dry lava. If you're lucky, you may even witness some small eruptions to add even more thrill to the experience.
From the summit, you'll be rewarded with a fabulous view of the surrounding scenery, including other volcanos in the area and Lake Amatitlán. There's simply no doubt that the hiking routes near volcanos in Guatemala will be an adventure that will remain etched in your memory for life.
Embark on an epic hike up Nicaragua's Masaya volcano
Let's continue on our travels towards Nicaragua, where the majestic Masaya volcano stands proud. This national park offers a unique experience, as you can actually walk up to the edge of the crater of this active volcano. You'll be able to take in the brightness of the magma and feel the heat emanating from the depths of the earth.
This region also boasts a diverse flora and fauna, making the routes even more interesting. Don't miss the opportunity to explore the lava caves that formed during earlier eruptions.
And along this spectacular route, you'll enjoy the company of colourful, exotic birds, such as the green parakeet and the toucan, as well as howler monkeys and foxes.
Santa Ana: conquer El Salvador's tallest volcano
Our final destination is El Salvador, where the Santa Ana volcano, also known as Ilamatepec, is found. It is the tallest volcano in El Salvador and offers a challenging, but rewarding route.
As you get closer to the top, you'll be rewarded with panoramic views of El Salvador's volcanic mountain range and the spectacular Lake Coatepeque. Once you reach the summit, you can actually see the majestic crater of the volcano, which has been active several times throughout history.
This volcanic mountain also has a history and culture that is particularly rich. The locals believe it to be a sacred spot and they celebrate festivals and rituals in its honour. There is also the opportunity to learn about the geology and volcano formation from the guides, who share their fascinating knowledge about the volcano and its surroundings.
What are you waiting for?
Ultimately, hiking up volcanos in Central America is a unique opportunity for adventurers and those who love unique natural treasures. The Pacaya, Masaya and Santa Ana volcanos offer exciting hiking routes, the chance to visit active craters and spectacular panoramic views. Are you up for this unique experience?
If you want to discover more about incredible hiking routes in Central America, take a look at our website. You'll find a wide selection of multi-destination tours and experiences that will allow you to explore the region's natural and cultural gems. For example, discover beautiful colonial towns with the multi-destination Central American colonial tour. Don't miss the chance to immerse yourself in the magic of this unique land!
Experiences: Adventure in Central America and Cultural Diversity.