Guatemala is a country of contrasts, a wonderful combination of abundant vegetation, volcanic exuberance and pre-Columbian gems. Its beautiful beaches, fascinating caves and monumental architecture make it one of the most attractive destinations in Central America. Here are ten travel tips for Guatemala so you'll leave no treasure undiscovered. Have you packed your bags yet?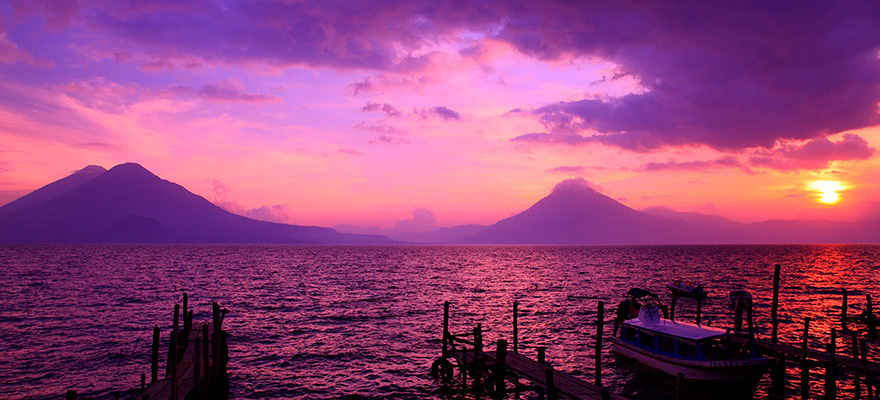 Quick guide for getting to know Guatemala
1. Photograph its volcanoes
Guatemala is one of the world's premier spots when it comes to volcanic formations. At 4,220 meters, El Tajumulco is its highest volcano (not to mention the highest in Central America). Feast your eyes on this fiery range, which features others like Santa Maria (3,772 meters), Volcán de Agua (3,760 meters) and Volcán de Fuego (3,763 meters).
2. Admire a crater lake
Observing a geological formation in the caldera of a volcano is a unique experience. Mark this place on your checklist: Lago de Atitlán. Its thermal waters, located in Sololá, have a depth of 350 meters. Take the opportunity to visit the charming villages scattered around the area.
3. Don't miss its archeological sites
Mayan civilization explains the history of the country. You simply must go to Tikal, one of the settlements that best represents these communities. It is located in the National park of the same name and is considered a World heritage Site, as is Quiriguá. They represent two examples of the architecture and customs of this organization.
4. Enjoy ecotourism activities in Cobán
Parque Nacional Laguna Lachuá emphasizes sustainable tourism. You'll be mesmerized by its tropical rainforest, which enriches this municipality whose territory is designed for outdoor sports. All of this is exists thanks to its cold climate and lush green spaces.
5. Explore the Popol Vuh Museum
This center located in Guatemala City takes you on a journey to the past with its important collections of pre-Columbian and colonial art. Make sure to check out the funeral ceramics or stone sculptures!
6. Admire the monumental gems of Antigua
Be sure to include these sites in your visit: Catedral of Santiago, Arch of Santa Catalina, Santa Cruz Hermitage and the Church of San Pedro. Its cobblestone streets are full of monumental treasures. As a recommendation, don't leave without heading up the Cerro de la Cruz Lookout.
7. Surf the beaches of Guatemala's Pacific coas
Here you'll find waves as amazing as those on the beaches of Hawaii. Bring your board to the Port of San José (at the edge of the demolished pier), Playa de Marmaya (in Sipacate), El Paredón or El Champerico. Like no other!
8. Taste its diverse cuisine
Does kak´ik ring a bell? It's a broth made of turkey meat, vegetables and chili. Another example of an exotic dish is chuchito, a little meat tamale filled with cheese and tomato sauce. You can also order the always delicious enchiladas
9. Discover its natural underground cave
Delve into the caves of Naj Tunich. This is a mysterious place full of cave paintings that symbolize the Mayan sacrifices. The caves of Actún Kan contain stalagmites and stalactites bearing curious names
Plan a multi-destination trip
10. Don't leave without visiting El Salvado
Choose a multi-destination alternative. Guatemala's proximity to El Salvador makes it possible for you to visit it during the same getaway. You can surf the Playas Sunzal, El Tunco and El Cuco, as well as check out Lago de Coatepeque and the Volcán de San Salvador. Enjoy its natural wonders!
After following our Guatemala tips to explore its charms, you should become familiar with the list of attractions in neighboring countries Belize and Honduras which are, like other territories in Central America, waiting to be explored. Turn your multi-destination trip into an unforgettable experience!