Marine reserves, Mayan pyramids, beaches surrounded by turquoise sea… Read on for these ten Belize tips, and this sea-bathed Caribbean country will become a firsthand witness to the best trip of your life. Looking to experience a unique adventure?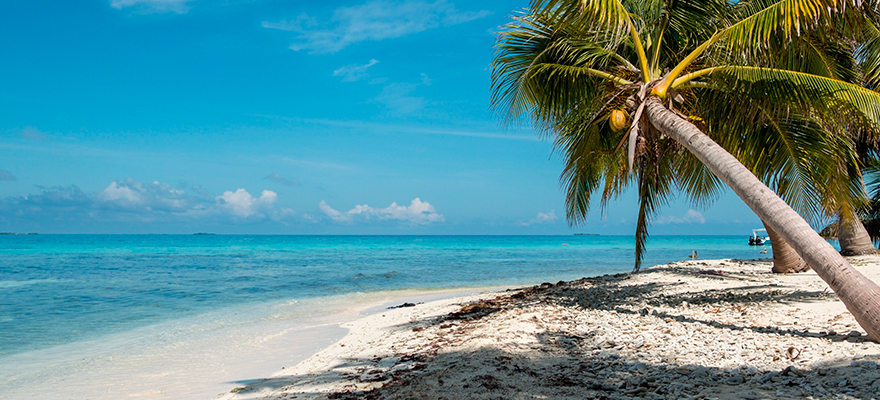 Ten itineraries to fall in love with Belize
1. Dive the Blue Hole
This nearly perfect circumference of dark blue with turquoise edges is located in the Lighthouse Atoll. Immersing yourself in these waters is an unforgettable experience; with a depth of 123 meters its seabed is made up of sponges, coral and fish of a myriad of colors.
2. Visit Mennonite communities
The districts of Corozal, Toledo and Cayo are three of the locations of these settlements. This religious group with a European past lives without electricity or new technologies. Their roots haven't mixed with the inhabitants of the country. They are clear-skinned and blue-eyed people who are dedicated to agriculture and travel by bicycle or carriages.
3. By blown away by its Mayan ruins
Pyramids, tombs, jade, hieroglyphics… In Belize you can visit some fifteen protected archeological sites that were inhabited by the ancient Mayan civilization. Don't miss the ruins of Caracol, with a pyramid measuring over 140 meters or those of Lamanai.
4. Discover the glass maiden
In the natural reserve of Tapir Mountain you'll find the remains of an adolescent who was sacrificed by a Mayan priest. The skeleton of this ancestor is covered with bright calcite that endows it with a crystal appearance. It is accompanied by jewels, musical instruments and sculptures.
5. Try snail soup
Cassava and chili come together in this traditional dish. To this delicacy you must add rice and bean soup. Here, the preparation is accompanied by lettuce and pieces of chicken. Of course, if you're eating on the beach, be sure to eat shrimp cooked in the Creole style.
6. Sign up for exotic bird watching
Especially in the forest. Looking for owls? The site for you is Parque Nacional Mayflower Bocawina. Do you prefer woodpeckers and cuckoos? Head to the Reserva Forestal Mountain Pine Ridge. Also check out Parque Nacional Agujero Azul de St. Germain if you're looking to be wowed by toucans.
7. Surf at Long Caye
Ride the waves in this crystalline paradise. Grab your board if you're a seasoned surfer because this spot requires prior knowledge due to its location on a coral reef.
8. Zipline through the rainforest
There's no better way to fire off some adrenaline than through flying through the jungle. Glide between cedars and ceibas in ziplines measuring over a hundred meters. And all of this while listen to the sounds of howler monkeys, spot a Jaguar and admire the pink wood.
9. Inner tube through caves
This activity consists of floating for several miles of underground water in an innertube. Of course, with the help of a flashlight and a helmet. This adventure has become so popular thanks to the dream-like views it offers. And it's no wonder: this journey through natural caves is characterized by waterfalls straight out of a movie, colorful crystals and attractive rock formations.
Choose a multi-destination trip
10. Take some time to visit Guatemala
Choose a multi-destination adventure during your trip to Belize. The proximity to Guatemala also allows you to visit this country during the same getaway. Be mesmerized by its volcanoes (especially Fuego and Tajumulco) and Parque Nacional Tikal, a cradle of Mayan culture. Other points of interest include Lago Atitlan, Punta de Manabique and Playa Blanca.
Now that you know the tips to enjoy Belize, discover other gold standards and be dazzled by the wonders of its neighbors Guatemala and Honduras.
Marvel at their colonial cities and architectural and natural jewels. Have an great and rewarding stay!